We are excited to announce that, as part of the Air IT group, we have achieved the globally recognised CREST accreditation, demonstrating our skill and competence in penetration testing.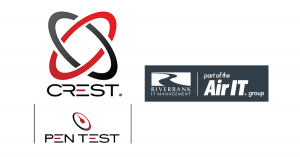 The highest standard of penetration testing
As a trusted provider of cyber security solutions for businesses, we are thrilled to become accredited members of CREST, joining a select group of specialists providing the highest standard of cyber security solutions.
The accreditation is awarded to businesses that can demonstrate effective processes and procedures when it comes to penetration testing, a process which involves using ethical hacking techniques to test the effectiveness of a company's cyber defences.
To achieve this accreditation, we underwent a rigorous assessment of areas including:
Company operating procedures and standards
Personnel security and development
Approach to testing and response
Data security
This is a huge achievement for Riverbank and the Air IT group, and means we now have the highest level of accreditation when it comes to pen testing.
What this means for clients
Many businesses are legally required to carry out annual penetration testing, but it can be hard to know who to trust to carry out such an important procedure.
Our latest accreditation is proof that our expert team are well positioned to carry out reliable penetration testing – CREST sets the benchmark for security testing and is the leading global certification body for the industry.
This means that we can provide our clients with the highest quality of ethical security testing, approved by the top industry regulator.
Marc Juffkins, Managing Director of Riverbank IT Management, said:
"The pandemic has resulted in a significant increase in cyberattacks as hackers take advantage of remote workers whose employers have not prepared them for the security risks associated with working from home. As part of the Air IT group, we can offer an even wider variety of cyber security services like pen testing, which allow us to help businesses mitigate risk. This accreditation is a great achievement for the team, who have worked hard to demonstrate their expertise and sound internal processes."
Who are CREST?
CREST is an independent certification body for the technical security industry. Recognised internationally, they provide accreditations for organisations and individuals delivering technical security services such as vulnerability assessment, penetration testing, cyber incident response, threat intelligence and security operations centre (SOC) services.
Their mission is to give businesses the confidence to choose a cyber security partner with the necessary skills, knowledge and competence to provide reliable cyber security solutions. All examinations are approved by GCHQ and NCSC.
Ian Glover, President of CREST, said:
"Recognising the vital role of penetration testing for its growing public and private sector client base, the Air IT group is now able to give customers the added reassurance that its services meet the very highest standards, by successfully going through the CREST accreditation process," said Ian Glover, President of CREST. "As well a rigorous assessment of its business processes, data security and testing methodologies, the Air IT group has built a team of qualified CREST certified penetration testers to carry out this highly-skilled and sensitive work."
Award-winning IT and cyber security services
Riverbank IT Management, part of the Air IT Group, is an accredited Managed Service Provider serving clients in Oxford and across the UK. Offering a breadth of IT and security services, we are committed to businesses succeed through technology and protecting them from cybercrime.
Have you taken the necessary steps to protect your business from the latest cyber threats? Our services include penetration testing, SOC as a Service, user awareness training and more - please don't hesitate to contact us for more information.